Saturday, March 31, 2012
Posted by

Erin Schubert
at 4:03 PM
0 comments

Wednesday, March 14, 2012
of days to my dear Richard!
For your birthday, a poem inspired by Nathan Sims...

And a sneaky little birthday gift...
Watch closely...
Dark Chocolate Chip Bundt Cake
1 box of

Duncan

Hines

Butter Chocolate Cake mix
1 3oz chocolate fudge pudding box
1 cup sour cream
1/2 c Kahlua or cooled brewed coffee
1/2 c of canola or vegetable oil
3 eggs
1pkg of dark or semisweet chocolate chips
Add all ingredients except the chocolate chips, beat 4 minutes with mixer on med high. Pour 1/2 of the mix in greased and floured bundt or tube pan with removable bottom. Add 1/2 chips on batter and slightly swirl to coat. Add remaining batter And the remaining chips. Swirl to coat chips. Bake at 350 for about 1 hour. Let pan cool on rack for ten minutes then turn cake out to plate to finish cooling. Cake can be frosted with ganache or powdered with confectioners sugar.
Posted by

Erin Schubert
at 6:00 AM
4 comments

Thursday, March 8, 2012
I made my first batch of homemade granola a few years ago using a recipe I found on the New York Times. It was truly awesome. So awesome, in fact, that I thought it may be beginner's luck. So I made more and more batches, each as delicious as the last.




In my arrogant youth, I didn't know a good thing when it was right in the oven before me. I felt the urge to experiment. Maybe there were better granola recipes out there?

I had a few years of walking in the wilderness of baked oats. Nothing compared.

But I'm older and wiser now and learned the error of my ways. And I'm happy to say, I'm back together with my original granola recipe. I know we'll be together forever.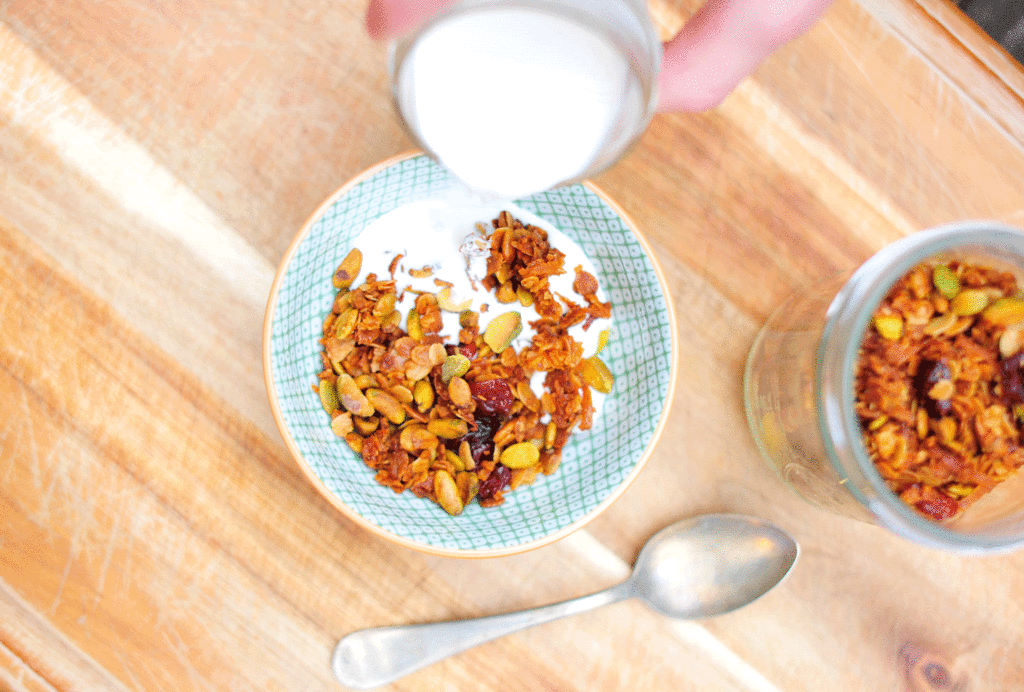 Olive Oil Granola with Dried Cherries and Pistachios



Originally adapted from the

New York Times

Ingredients:

3 cups old fashioned rolled oats

1 cup raw pistachios, hulled (if you can't find raw, use hulled roasted pistachios and mix them in at the end)

1 cup raw pumpkin seeds, hulled

1 cup coconut chips

3/4 cup raw agave syrup

1/2 cup extra virgin olive oil

1/2 cup packed light brown sugar

1 teaspoon sea salt

1 teaspoon pumpkin pie spice

3/4 cup dried bing cherries
Directions:

Preheat oven to 300 degrees. In a large mixing bowl, combine oats, pumpkin seeds, pistachios (only if raw), coconut chips, salt, brown sugar and pumpkin pie spice. Mix well. Add agave syrup and olive oil and stir to coat entirely.

Spread mixture on a large rimmed baking sheet in an even layer and bake 45 minutes, stirring every 10-15 minutes, until golden brown and toasted. Transfer granola to a large bowl and mix with dried bing cherries and pistachios.
Posted by

Erin Schubert
at 5:56 PM
1 comments